As a coffee-lover, I don't stick to one cafe for my coffee. I always go to different one every day and order a different type of coffee each day,
from brewed coffee to cappuccino. So this Sunday I was introduced to a new cafe, the Nitro 7 Coffee and Tea Bar. They have several branches across Metro Manila but the one I visited is located at Robinsons Magnolia in the food court section.
What makes Nitro 7 Coffee Special?
It is how the coffee being prepared. Nitro 7 base-coffee is brewed for 18 hours at cold temperature. The process increases the caffeine
content
by 30% but lessens the acidity. After that it will be infused to nitrogen to lessen the bitterness. The by-product, Black Nitro, will be the base coffee for other drinks.
They have different drinks,
Nitro Cold Brew Coffees (nitro coffee-based)
, Nitro Tea Breve Brews(nitro tea-based , and Nitroccino (frap style). I tried one from nitŕo cold brew selection. The one I tasted was the Nitro Breve. Nitro Breve is half mixture of milk and cream (breve) with Black Nitro. I really loved it because it was creamy/milky but it didn't dilute the coffee. I could still taste the nitro coffee while I was drinking it. This is the type of drink that I won't ask the barista to put just a 1/3 of milk.
They also offer sandwiches that you can partner with your coffee. I was able to taste all their sandwiches:
a. Triple Cheese (PHP 115)
b. Corned Beef
(PHP 115)
c. Tuna & Cheese
(PHP 115)
d. Ham & Cheese
(PHP 125)
I loved all of them. They had rich fillings. Hindi tinipid!
They also offer Frank and Cheese (PHP 125). This one surprised me. They were wrapped with pita instead of typical hotdog sandwich.
You may check the drinks prices below.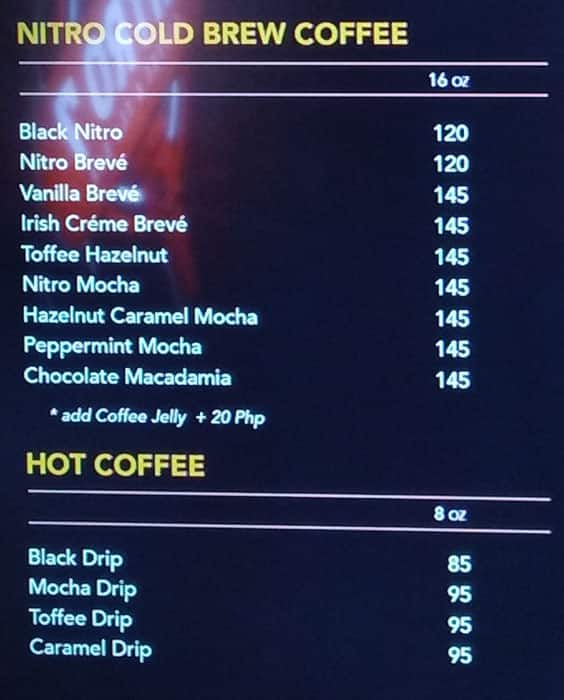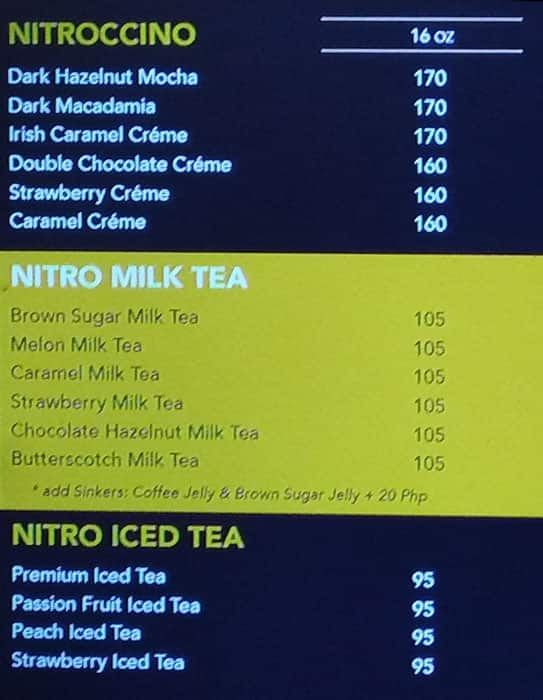 The Verdict
Nitro 7 Coffee offers a wide selection of drinks from coffee to tea which is good. It is true that it increases the caffeine by 30%. I usually take 2 to 3 cups of coffee a day but when I took the nitro breve it was the first and last coffee I drank on that day. Location is on the food court and facing the supermarket so you have enough seat after your shopping. Hoping for a branch near Araneta City as I really like the Nitro Breve.
Visit the Nitro 7 Coffee near your area.
1. SM Megamall B, 4th floor
2. SM North Edsa Annex, 4th floor
3. SM Dasmarinas Cavite, GF
4. SM Pasig,GF
5. SM Fairview, GF
6. Robinsons Magnolia, LGF
7. Greenbelt 3, 3rd floor
8. Ayala The 30th, 2nd floor
9. Ayala Feliz, Cinema Level
10. LA Village, Youniversity Suites. Recto
11. Eastwood Citywalk 1
12. The Fort Strip BGC, Taguig
13. Happiness Food Hub Cainta
14. Robinsons Galleria, Level 1
15. Robinsons Manila, 3rd floor
16. The Pond Valenzuela
17. Glorietta, Food Choices
Follow us on our social media accounts